Windsor Castle
Windsor Castle is the oldest and largest inhabited castle in the world. It has been the family home of British kings and queens for almost 1,000 years. It is an official residence of Her Majesty The Queen, whose standard flies from the Round Tower when she is in residence. The Queen spends most of her private weekends at Windsor and takes up official residence for a month over Easter (March to April), known as Easter Court. The Queen is also at Windsor for one week each June, when she attends Royal Ascot and the service of the Order of the Garter.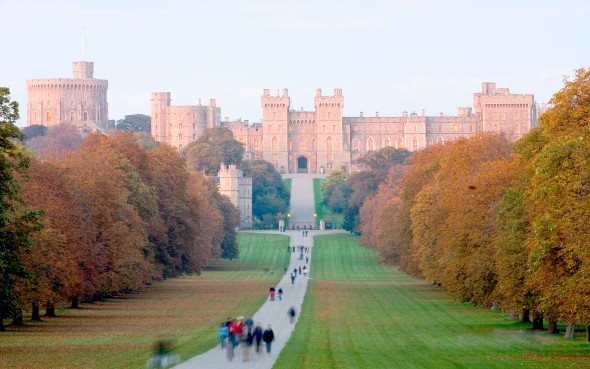 The State Apartments are furnished with some of the finest works of art from the Royal Collection, including paintings by Rembrandt, Rubens and Canaletto. Many of the works of art are still in the historic settings for which they were first collected or commissioned by the Kings and Queens who have lived at Windsor.
St George's Chapel is one of the finest examples of Gothic architecture in England and is particularly noted for its magnificent stone fan vaulting. It is the spiritual home of the Order of the Garter, the senior order of British Chivalry established in 1348 by Edward III. Within the chapel are the tombs of ten sovereigns, including Henry VIII and his third wife Jane Seymour, and Charles I.
Changing the Guard at Windsor Castle encompasses colourful spectacle and British pageantry. The ceremony takes place within the Castle grounds daily from April until the end of July and on alternate days for the rest of the year, weather permitting.
Among the highlights of a visit to Windsor is Queen Mary's Dolls' House, the largest, most beautiful and most famous dolls' house in the world. Built for Queen Mary by the leading British architect Sir Edwin Lutyens between 1921 and 1924, this most magical of residences is a perfect replica in miniature of an aristocratic home.