Buckingham Palace
Originally known as Buckingham House, the building which forms the core of today's palace was a large townhouse built for the Duke of Buckingham in 1705 on a site which had been in private ownership for at least 150 years. It was subsequently acquired by George III in 1761 as a private residence for Queen Charlotte, and known as "The Queen's House". During the 19th century it was enlarged, principally by architects John Nash and Edward Blore, forming three wings around a central courtyard. Buckingham Palace finally became the official royal palace of the British monarch on the accession of Queen Victoria in 1837. The last major structural additions were made in the late 19th and early 20th centuries, including the East front which contains the well-known balcony on which the Royal Family traditionally congregate to greet crowds outside. Buckingham Palace has 775 rooms. These include 19 State rooms, 52 Royal and guest bedrooms, 188 staff bedrooms, 92 offices and 78 bathrooms. In measurements, the building is 108 metres long across the front, 120 metres deep (including the central quadrangle) and 24 metres high.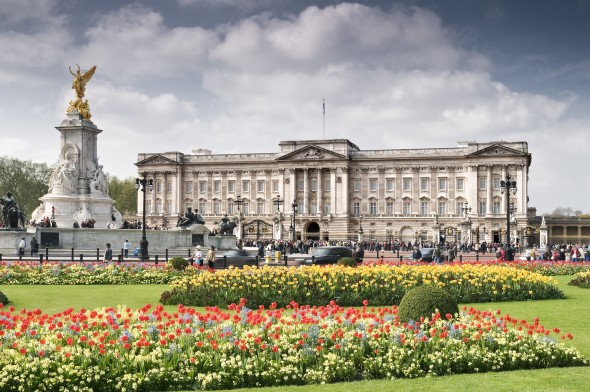 Today Buckingham Palace is the working headquarters of the Monarchy, where The Queen carries out her official and ceremonial duties as Head of State of the United Kingdom and Head of the Commonwealth. The Queen and The Duke of Edinburgh live in the private apartments on the north side of the Palace, while rooms on the upper floors of the north and east sides are occupied by other members of the Royal Family. Much of the ground floor and the south wing of the Palace are used by Household staff. The principal State Rooms used for court ceremonies and official entertaining occupy the main west block facing the gardens.
Thousands of visitors each year make their way up the Grand Staircase to the State Rooms when attending a Reception or Investiture. Designed by the architect John Nash for George IV, the staircase was augmented by Queen Victoria when she added portraits of her immediate family. The Throne Room is used principally for the reception of formal addresses on important occasions, such as those present to The Queen's Jubilees in 1977 and 2002. The Blue Drawing Room was originaly known as the South Drawing Room. Today it.is used by guests who gather here before large luncheon parties and grand State and diplomatic occasions. The White Drawing Room is used for receptions and audiences and has been used as the backdrop for a number of formal photographic portraits of members of the Royal Family.
Insider tip from More Than Good Manners: Did you know that you can visit Buckingham Palace with More Than Good Manners during August and September ? Why not combine it with a tour of nearby St James's Street and its surrounding area ? for more information visit the London Tours section of our website email us at veronica@morethangoodmanners.com