Sandringham House
Built in 1870 by the Prince and Princess of Wales, later King Edward VII and Queen Alexandra, Sandringham was once described as 'The most comfortable house in England' and is the much-loved country retreat of Her Majesty The Queen and His Royal Highness The Duke of Edinburgh. The house, set in 24 hectares of stunning gardens, is perhaps the most famous stately home in Norfolk and is at the heart of the 8,000-hectare Sandringham Estate, 240 hectares of which make up the woodland and heath of the Country Park.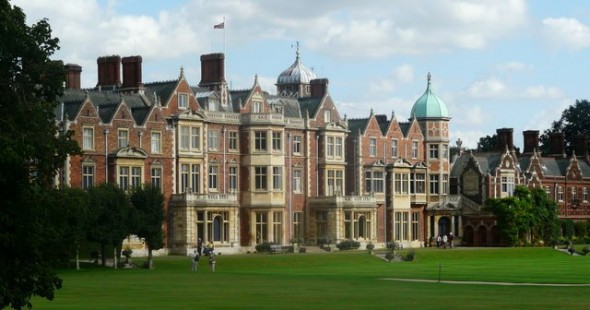 Sandringham is recorded in the Domesday Book of 1086 as "Sant Dersingham", the sandy part of Dersingham, subsequently shortened to Sandringham. There is evidence of a residence on the present site of the House as early as 1296. Sandringham House is set in 24 hectares of glorious gardens, perhaps the finest of all the Royal gardens. Every generation of the Royal Family which has lived here has added something of their own times and tastes, from the peace of the woodland walks to the drama of the carrstone rockeries, from the formality of the North Garden with its pleached lime avenues to the intimacy of the Stream Walk.
The main ground floor rooms, regularly used by the Royal Family, are open to the public and the decor and contents remain very much as they were in Edwardian times. Both Queen Alexandra and later Queen Mary were great collectors of objets d'art. Members of the Russian and European Royal Families were frequent guests at Sandringham and brought gifts of enamel, silver and silver-gilt: Kaiser Wilhelm I of Germany gave a fine Dresden porcelain chandelier and mirror frame. An important collection of oriental arms and armour is housed at Sandringham, brought back from the Far East and India in 1876, and a special exhibition in the Ballroom is changed every year.
The Museum at Sandringham holds an extraordinary collection of Royal vehicles, rare ceramics, photographs and memorabilia. Ranging from the very large - the 1939 Merryweather fire engine - to the very small - tiny Indian doll dancers in the Curio Cupboard - and from the grand - gifts in pearl and exotic hardwoods given to The Queen on State Visits abroad - to the personal - the clock used in the Royal Pigeon Lofts at Sandringham to time Her Majesty's racing pigeons. It is housed in the former coach houses and stable block which, over the years have also been used as police post, fire brigade station, Carving School and Royal garages.